Night Hunter Series
The Italian Vampire

And Fabio can't read this book!
She's vowed to never love again...
Seeking escape from a bad break up, Sandra Waring flees home to Connecticut. Anticipating a weekend of relaxation and a new future, she instead finds herself stranded in the middle of a snowstorm, her rental car wrecked in a ditch. A tall, dark, and gorgeous stranger comes to her rescue, offering her a safe haven in his rural, secluded home. Miles away from her final destination, Susan sees no other option than to accept. Besides, she's on vacation, and maybe a little wine and song with a gorgeous man is just what she needs to totally relax.

He's vowed to never kill again...
Vampire Drako Lanzoni would rather not be tempted by the beautiful woman who calls to his soul as well as hunger, but he has no choice. He offers her a safe haven for a few days until the blizzard passes, hoping the storm will ward off the showdown to come with his old enemy. Once the woman is on her way, he'll put an end to their centuries-old battle. He's the one used to weaving the spells, but the longer he stays in Sandra's company, the more he's ensnared. 

But as the end draws near, Drako realizes he'll need to kill again to save his lover and himself...

******

The Italian Vampire is part of Caliente Morgan's Night Hunter series. While it can easily be read as a stand-alone story, you'll likely enjoy reading the other books in the series, too. 
---
Night Hunter
She's Buried Alive - He's a Vampire Awakened - Something Evil This Way Comes 
Sharon has been kidnapped, buried alive, and rescued by a bumbling yet sexy vampire, all in one night. Now, thanks to Jonas, who she can't seem to resist, she's being threatened by every unmated vampire within range of San Francisco. Why can't she drink her Café Mocha anymore?
Jonas left home decades ago without completing his training. He has few of the skills that the elders have and while that was normally good enough for his comfort, he is helpless in the face of this evil. All he knows is that this is his intended mate, she's in trouble, and he needs to save her or live alone forever. He just isn't sure how. 
Something else does.
If you like a little mystery and a little humor with your contemporary romance, then you'll love Night Hunter! 
Buy Night Hunter to follow their fun if bumbling adventure today!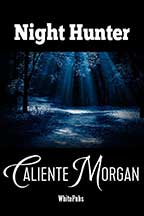 Copyright © 2020 WhitePubs Enterprises, Inc.
All Rights Reserved
Website templates
This template was constructed by Steves-Templates.com.
Site Content by WhitePubs Enterprises, Inc.
WhitePubs ® is a registered trademark of WhitePubs Enterprises, Inc.